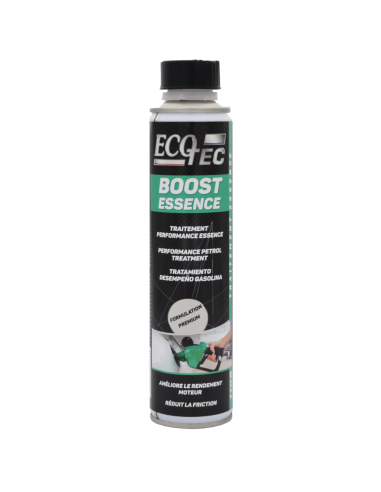 Maximize
Display all pictures
1108- BOOST EVOLUTION ESSENCE
PROPERTIES :
Active ingredient which reduces friction and acts on engine's performance and optimizes the ratio power / consumption.
Premium detergent formulation tested on direct and indirect petrol engines.
Reduces friction by 28 % in the injection system.
Active ingredient which fights corrosion, efficient on petrol containing up to 10% of ethanol (SP95EU).
Separates water from the fuel, and prevents that water gets into the injection system.
RESULTS :
Improved engine performance.
Very good protection of the injection system, by demulsifying, anti-corrosion action and reduction of the friction.
Improves the quality of the injection, especially in direct injections very sensitive to fouling.
INSTRUCTIONS FOR USE:
Product to be poured in the gasoline tank. Suitable for 40 to 70 liters of unleaded petrol. Compatible with all types of gasoline engines.
NET VOLUME : 300 ml