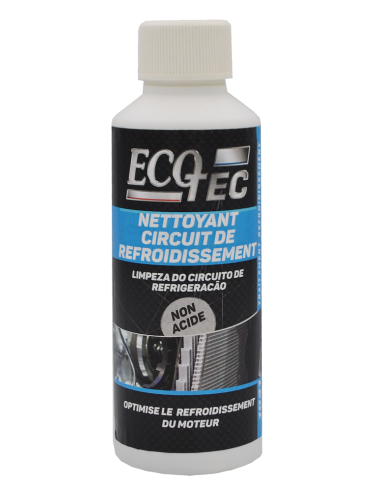 Maximize
Display all pictures
1031 - COOLING CIRCUIT CLEANER
PROPERTIES :
It has a combined action of deoxidising and sludge elimination.
Disperses and eliminates all contaminants from the cooling circuit (metallic oxides, sludge, etc.).
Suitable for use with all types of coolant.
RESULTS :
Restores the original levels of performance in critical components (radiator, water pump, thermostat, etc.).
Improves heat exchanges in the cooling circuit.
Optimises the replacement of the cooling liquid which is poured in a depolluted circuit.
Prevents costly repairs due to corrosion and poor heat transfer.
Prevents the rapid reappearance of the problems linked to corrosion.
INSTRUCTIONS FOR USE :
For cars : Turn the heating system on. Start the engine and let run at idle for 15 to 30 minutes. Switch off the engine and wait 10 minutes. Rinse thoroughly with clear water. Refill with new coolant.
For trucks and heavy engines : Shake before use. Add the content of two bottles in the cooling circuit. Start engine and let idle for 30 to 45 minutes with heating in the maximum position.
Stop, wait 10 minutes then rinse thoroughly with clean water. Fill with new coolant. See the instructions for use.