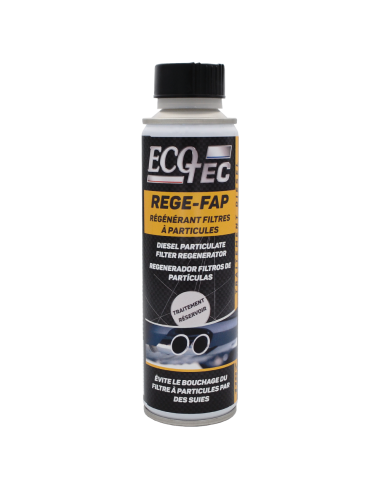 Maximize
Display all pictures
1107 - REGE-FAP
PROPERTIES :
Organometallic additive that catalyzes the soots combustion and decreases significantly the temperature at which the soot is burned.
The combustion of the soot treated with REGE-FAP is 5 times faster than the combustion of non-treated soot.
Very concentrated, easy to use treatment, to be poured into the fuel tank.
RESULTS :
Helps for a quicker and more complete regeneration of the diesel particulate filter, especially in conditions that make it difficult ( urban use, small distances, low speed).
Avoids filter clogging due to the accumulation of soot.
Avoids prolonged excessive temperatures in the cases of difficult regenerations and protects the DPF against damage and corrosion caused by excessive temperatures.
Reduces the engine oil's deterioration due to long regenerations.
Allows a maximum effectiveness with only 250 ml.
INSTRUCTIONS FOR USE :
Pour REGE-FAP before filling-up the fuel tank with 40 to 60 liters of diesel fuel. The minimum quantity to treat is 25 liters of fuel. Treatment to be used every 3-4 fuel full. Do not over treat. Not suitable for diesel particulate filters
functioning with a regeneration additive (PSA Technology).