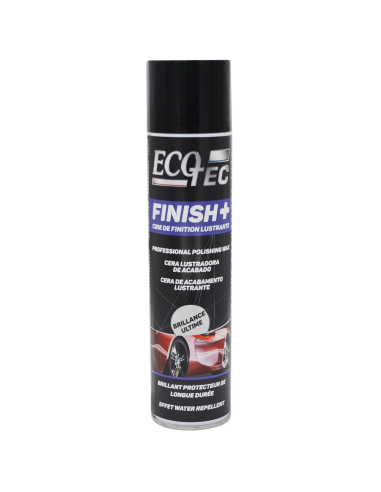 Maximize
Display all pictures
1061 - FINISH+
PROPERTIES :
Gives a long lasting protective effect.
Antistatic and water repellent effect.
Effective surface cleaning.
Easy to apply and polish off.
Can be used on various surfaces : metallic, painted, varnished, plastic, glass ...
RESULTS :
Gives "the final touch" to new car preparation : delivrered to customer or exhibited in Show room.
Leaves an exceptional depth and clarity of gloss.
Ultra low dusting and non abrasive.
Leaves no traces and is also suitable for polishing chrome.
INSTRUCTIONS FOR :
Shake well before using. Spray 10 cms from surface with short pressions. Wipe with a soft, clean, lint-free cloth. Do not use for any purpose other than the one for which it is intended.