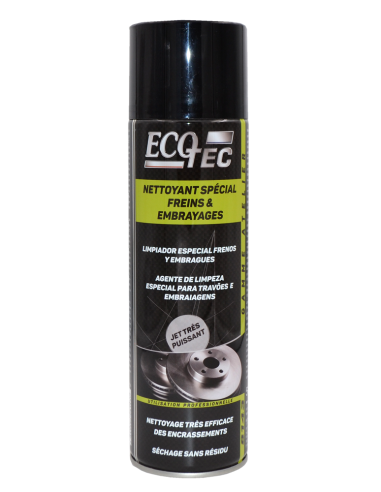 Maximize
Display all pictures
1043 -BRAKES AND CLUTCHES CLEANER
PROPERTIES :
Optimized blend of solvents.

Acetone free product.
Very quick drying.
Can be sprayed upside down.
High cleaning capacity.
Powerful jet which has a mechanical cleaning effect.
Leaves no residue when dry (complete evaporation).
RESULTS :
Helps restablishing the efficiency of braking.

Highly efficient cleaning of dirt and dust from brake linings.
Reduces brake noise.
Efficient on oil, grease, wax and other non-crosslinked polymers.
No polymer stress due to acetone (acetone free).
Easy and fast use.
INSTRUCTIONS FOR USE :
Spray at 20 cm from the surfaces to be cleaned. Let it act a few moments and wipe it with a cloth.