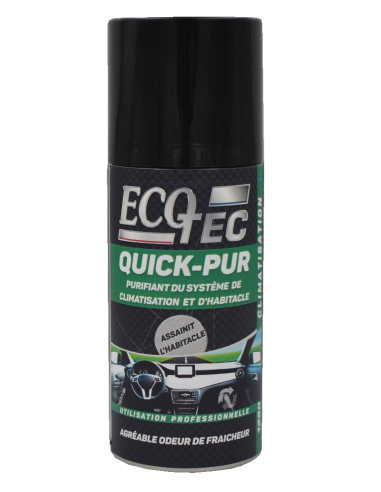 Maximize
Display all pictures
1250- QUICK-PUR
PROPERTIES:
• Penetrates deeply recessed areas, ducts and fabrics.
• One shot self dispensing spray.
• Long lasting pleasant smell.
RESULTS:
• Global treatment of passenger cell.
• Treats in a single operation the interior of the vehicle and the A/C system.
• Easy to use, quick and effortless.
• Very efficient action against bad smells. Leaves a long lasting fresh fragrance.
INSTRUCTIONS FOR USE :
1. Close the doors and the windows and start the engine. Set the air system as follows :
- Fan at maximum speed.
- Recycle mode on.
- Maximum cold position with A/C on.
- All vents fully opened.
2. Front passenger seat at maximum rear position, put the spray vertically on the floor.
3. Press firmly the dispenser until it snaps. The product will disperse itself automatically.
4. Leave the car with no one inside and close the doors. Let the product work 15 minutes.
5. Open all doors and allow the air exchange at least 5 minutes. The treatment is finished.