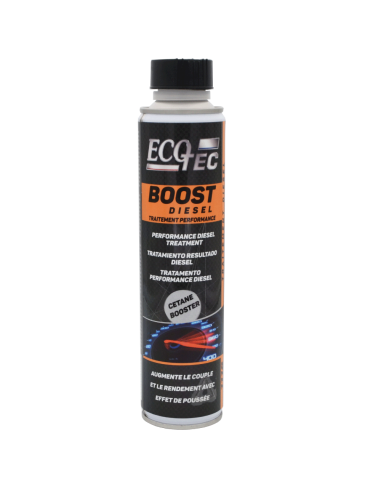 Maximize
Display all pictures
1118 - BOOST EVOLUTION DIESEL
PROPERTIES:
Latest generation detergent technology compatible with DW10 engines.
Ashless technology fully compatible with particle filters.
Avoids the risk of water contamination by separating water from the fuel (demulsifying action).
Highly efficient lubricant component (HFRR tests).
Increases the cetane number by 4 points.
Improves anti-corrosion properties of the treated fuel.
RESULTS:
Increased power and performance with effect of thrust.
Protects the injection system against different sources of seizures (fouling, corrosion, carbon deposits).
Helps restoring the initial performance of the engine (torque, power, consumption).
Helps maintaining a low level of soot and particulates in the variable geometry turbos, combustion chambers and depollution systems ( EGR, Particulate Filters).
Ensures easier cold start.
INSTRUCTIONS FOR USE
Pour the product in the fuel tank before filling. One bottle treats 40 - 70 liters of diesel fuel. Can be used continuously or only when maximum performance is needed.