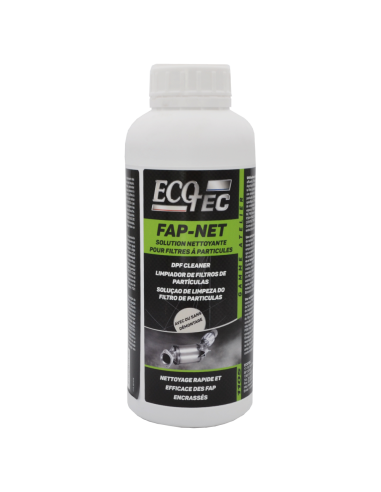 Maximize
1105 - FAP-NET DPF Cleaner
PROPERTIES :
Cleaning solution for clogged particulate filters.
Innovative formulation specific for soot cleaning.
Solvent free.
Ashless formulation.
Metal or combustion catalyst free.
RESULTS :
Cleans quickly and efficiently the clogged particulate filters.
Allows considerable money savings, no need for filter change.
INSTRUCTIONS FOR USE:
Can be used on a dismantled particulate filter or without dismantling, with the aid of ECOTEC device reference 8080.
IT MUST NEVER BE INTRODUCED INTO THE FUEL TANK OR THE INJECTION SYSTEM.
Net Volume : 1 L