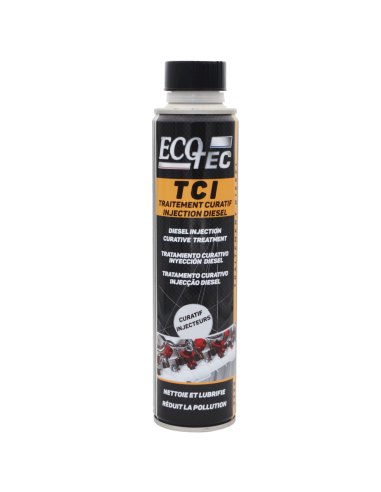 Maximize
Display all pictures
1111 - DIESEL INJECTION CURATIVE TREATMENT
PROPERTIES:
Contains the best detergent technology tested on the latest generation of engines; curative effect on DW10 engines.
Highly efficient lubricant component (HFRR tests).
Increases the cetane number up to 7 points.
Formulation that has a curative effect on the pumps and injectors in a single refueling.
RESULTS:
Allows quick and complete treatment of dysfunctions of the injection system related to clogging: fouled injectors, smoke opacity,...
Cleans the treated parts, restoring their original properties.
Helps reducing the emissions level of soot and particulate and restoring it to the manufacturer's standards.
Ensures the maintenance of the injection systems, which is necessary for a good functioning of the pollution control systems (EGR, DPF) and variable geometry turbos
INSTRUCTIONS FOR USE:
Pour the treatment into the fuel tank, if possible before refueling. A bottle is suitable for a diesel tank of 40 to 70 liters. It is recommended to replace the fuel filter once the fuel consumed. The treatment is effective after 150 km but optimal (technical inspection) after consuming all fuel in the tank. Treatment to be renewed every 25 000 to 30 000 km.
NET VOLUME: 300 ml