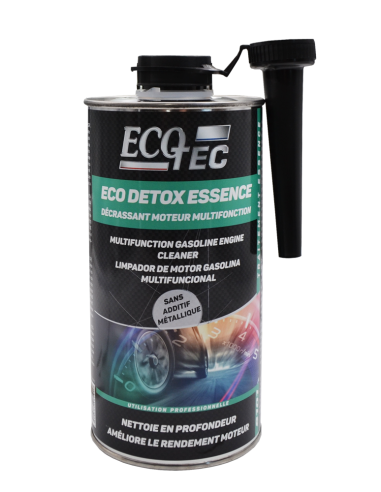 Maximize
Display all pictures
8101 - ECO DETOX ESSENCE - MULTIFUNCTION GASOLINE ENGINE CLEANER
PROPERTIES :
Complete gasoline engine cleaner with anti-corrosion and friction reduction action.
Curative cleaner tested on new generation GDI engines.
Guaranteed metallic additives free, to improve environment and health impact.
RESULTS :
Reduces injection fouling by up to 66% on new generation engine test (EA 111 test).
Cleans the injectors and combustion chamber and keeps the turbo, EGR, valves, catalyst and particle filter clean.
Reduces friction of top engine area and improves engine performance.
Reduces mileage degradation of petrol engines and avoid power loss.
Protects the injection system and restores the flow of injectors.
Improves the efficiency and durability of anti-pollution systems.
INSTRUCTIONS FOR USE :
Pour into tank just before filling. Treats 40 to 60 liters of SP 95/ SP 95 E10/ SP 98. For E85 and SP / E85 blends, use ECO 85+ ref 1203. Suitable for all types of petrol engine even the latest generation (3/4 cylinder direct injection engines).