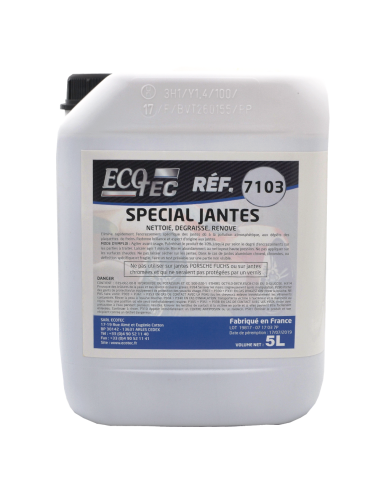 Maximize
7103 - WHEEL CLEANER
PROPERTIES :
Very effective alkaline formulation especially on brake dusts.
Safe for use on paints and rubbers.
3 in 1 : cleaning, degreasing, renovating.
RESULTS :
Eliminates quickly dirtiness of atmospheric pollution, brake dust...
Allows a perfect cleaning of the most intricate and elaborate wheel designs.
Gives back brightness to wheels in particular on alloy wheels.
In case of the following wheel types : Chromed aluminium, chromed, specific coating, make a first test on a non visible part.
INSTRUCTIONS FOR USE :
Shake well before using. Can be used from pure to a 10% dilution in 90% water depending on dirtiness. Spray the product on the parts to treat. Let act 1 minute. Rinse thoroughly with a high pressure cleaner. Do not apply on hot parts or uncoated aluminium. Do not let dry the product on wheels.