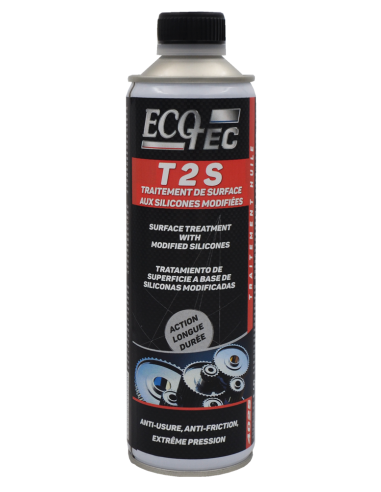 Maximize
4025 - T2S MODIFIED SILICONE SURFACE TREATMENT
PROPERIES :
Forms a mono-molecular layer that can resist pressure up to 1600 kg/mm².

The layer protects the surface of the metal against adhesion of foreign particles and against corrosion.
Resists to a temperature of 700°C.
Ensures a better resistance of the treated lubricant against shearing.
Efficient action against deterioration of metallic parts.
Reduction of the friction coefficients.
RESULTS :
Lowers the operating temperature (oil and water) by approximately 10°C.

Increases the lifespan of treated parts by reducing wear. 
Results in manual gear boxes :
Makes gears shift easier.

Reduces noises.
Results in hydraulic circuits :
Softens and restores used sealing joints.

Reduces operating temperature and the aging of the oil.
Eliminates hard points.
INSTRUCTIONS FOR USE :
Compatible with all types of oil except for graphitized oils.
Suitable for :
- 10 to 15 liters of transmission or axle oil.
- 50 liters of hydraulic circuit oil.
- 20 to 25 liters in the other cases.
Do not use in automatic transmissions or friction systems lubricated in oil bath.