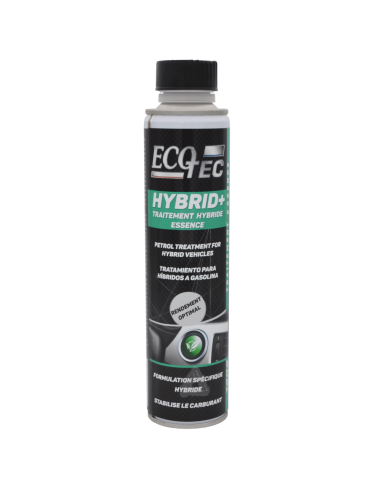 Maximize
Display all pictures
HYBRID+
PROPERTIES :
Synthetic formulation especially designed for hybrid vehicles of all kinds: mid to full hybrid with petrol basis and petrol PHEV (plug in hybrid).
Enhanced detergency.
Treats petrol circuits of hybrid vehicles using petrol incorporating up to 10% ethanol biofuel.
Compatible with both direct and indirect petrol injection systems.
RESULTS :
Improves the petrol engine operation and contributes to its optimum performance.
Prevents corrosion of the fuel system and stabilizes the petrol for several months.
Prevents excess of particulate emissions in the case of direct injection systems.
Allows treating latest generation and future generation of hybrid petrol vehicles as well as fuel circuits of range extenders.
INSTRUCTIONS FOR USE : 
Pour the product into the petrol tank. It treats fuel tanks of all types of hybridpetrol vehicles ( 35 to 65 liters). Also compatible with classical petrol engines.