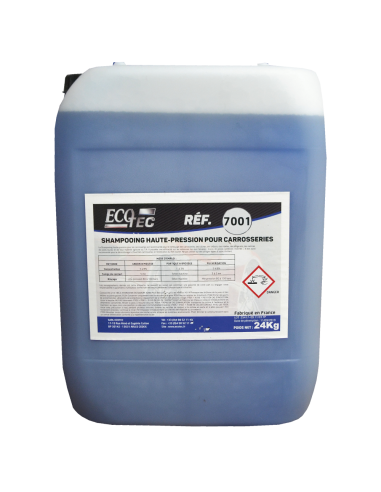 Maximize
7001 - SHAMPOOING HAUTE PRESSION POUR CARROSSERIES
PROPERTIES :
Concentrated, self-activating product.
Very effective against traffic film, insects, diesel residues...
Suitable for high temperature removal of copolymeres on new vehicles.
Self-polishing effect.
PH (5% dilution) : 11,4.
RESULTS :
Very fast elimination of traffic film, protective wax and even the most stubborn stains.
Can be used to degrease chassis, and tarpaulins of trucks, farm and civil engineering vehicles.
Leaves a shiny film on bodywork.
INSTRUCTIONS FOR USE :
Use the product upwards in case of aspersion cleaning and rinse downwards.
Do not use on alloy wheels with a dilution of more than 5%.
Dilution 3 to 5% according to dirt.