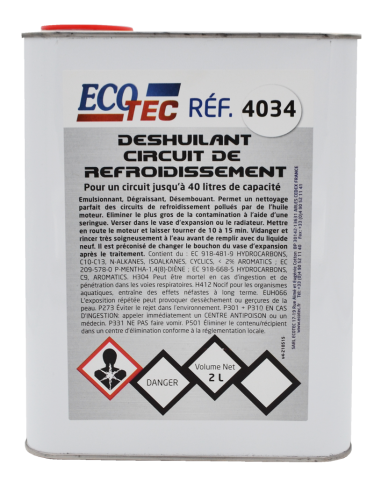 Maximize
4034 - COOLING CIRCUIT OIL EMULSIFIER
PROPERTIES :
High cleaning and degreasing power.

Emulsifies the oil so that it can be completely evacuated when the circuit is flushed.
Soluble in all types of coolants.
Separates water from oil and eliminates sludge.
Blue dyed product in order to evaluate cleaning level.
RESULTS :
Allows an easy and efficient cleaning of cooling circuits contaminated by 

oil due to a damage (e.g. Head gasket failure).
Helps restoring optimal conditions in the cooling circuit.
Reduces risks of overheating.
INSTRUCTIONS FOR USE :
Remove the most of contamination with a syringe. Shake well the dose before pouring product in the cooling circuit. Turn the engine on and let it run 500 rpm above idle for 10 minutes max.
Switch off the engine and wait 10 minutes. Rinse thoroughly with clear water. Refill with new coolant. One dose is adequate for a circuit with a capacity of 40 liters. Once treatment is finished, it is advised to change the filling cap by a new one.