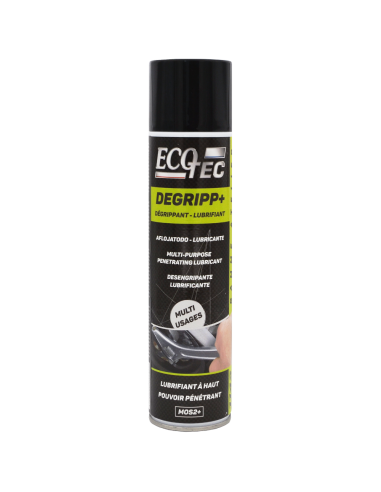 Maximize
Display all pictures
1142 - DEGRIPP+
PROPERTIES :
Optimised mixture of hydrocarbon, anti-corrosion additives, wetting agents 

and a colloidal molybdenum disulphide suspension (MOS2).
It forms a thin film of solid lubricant which enhances the lubricating properties.
Extremely good penetrating properties.
Silicone free.
Water repellent.
RESULTS :
Penetrates rusted parts and sticking mechanisms.

Protects against corrosion.
 Very good lubrication without being too greasy.
Cleaning and decarbonizing action.
Wide range of uses
INSTRUCTIONS FOR USE :
Shake well before use. Apply directly to the parts to be treated. Wait 10 minutes for a good result. Application temperature: 10-40°C.