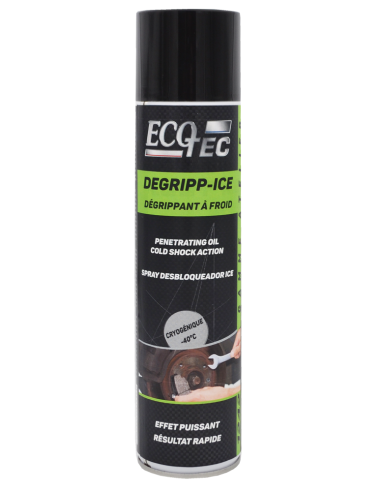 Maximize
Display all pictures
1242 - DEGRIPP-ICE
PROPERTIES :
Triple synergy: the freezing spray creates micro cracks which help the penetration of the product. This penetration makes disassembly easier and also creates a layer of lubricant (containing graphite) which reduces the need for loosening torque.

Penetrating formulation specially developed for the mechanical disassembly.

Cools down to -40 °C.
RESULTS :
Powerful effect, without damage on parts, unlike the methods of heating of 

the assemblies.

Adapted for releasing corroded parts like : screws, nuts, bolts
Can be used for cars, trucks, marine, civil engineering, and any kind of mechanical material
INSTRUCTION FOR USE :
Shake well before use. Remove visible dirt and rust. For a good freezing effect apply generously Degripp-Ice at 3-5 cm on the parts. Leave a few minutes. For difficult cases, the application may be repeated after 2 minutes.