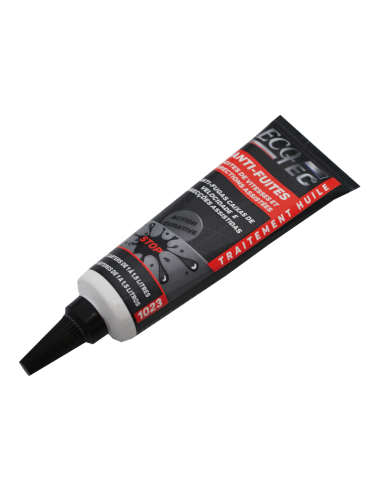 Maximize
Display all pictures
1023 - OIL LEAK STOP FOR TRANSMISSIONS AND PWER STEERING
PROPERTIES:
Regenerates dried out and damaged elastomer seals and restores them 

to their original size and elasticity.
RESULTS:
Eliminates leaks and drips of oil.

Decreases oil consumption.

Keeps the clutch dry for optimal performance.

Avoids environmental pollution by lubricant leaks.

Reduces the risks of breakdown due to a lack of lubricant.
INSTRUCTIONS FOR USE :
Suitable for use with the following oils: engine, transmission (manual and automatic), transfer boxes, axles, hydraulic circuits. 
Can be used instead of our product reference 1021 "Engine oil leak stop"
for engines with hydraulic valve lifters. 
Complete effect may take a few days and remains even after the oil is changed.
A 30 ml dose treats 1 to 1,5 liters of oil.
Do not over treat.